Dead End Hayride is a blast for guests and workers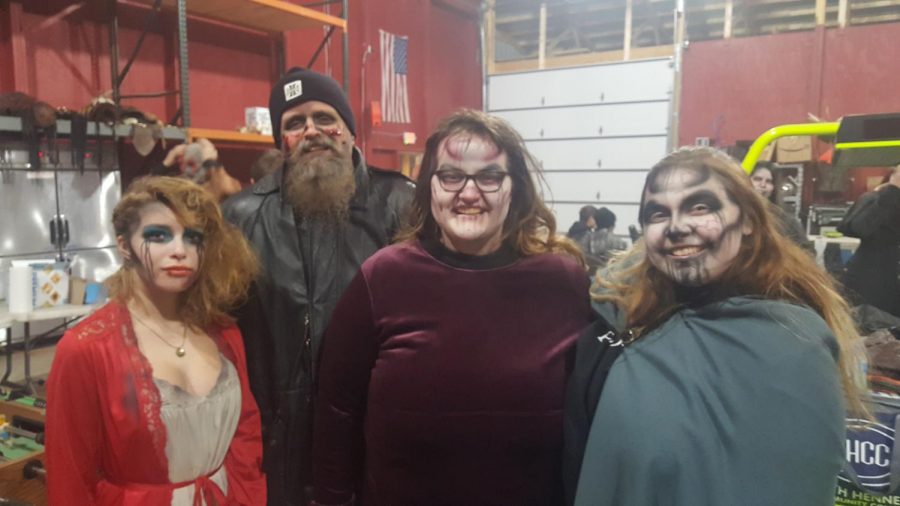 Sam Joy, Staff Writer
October 29, 2018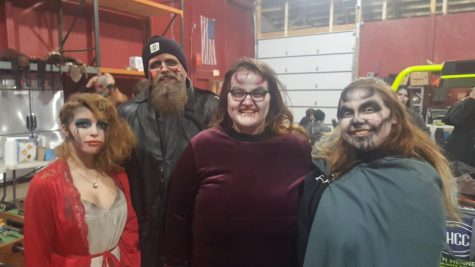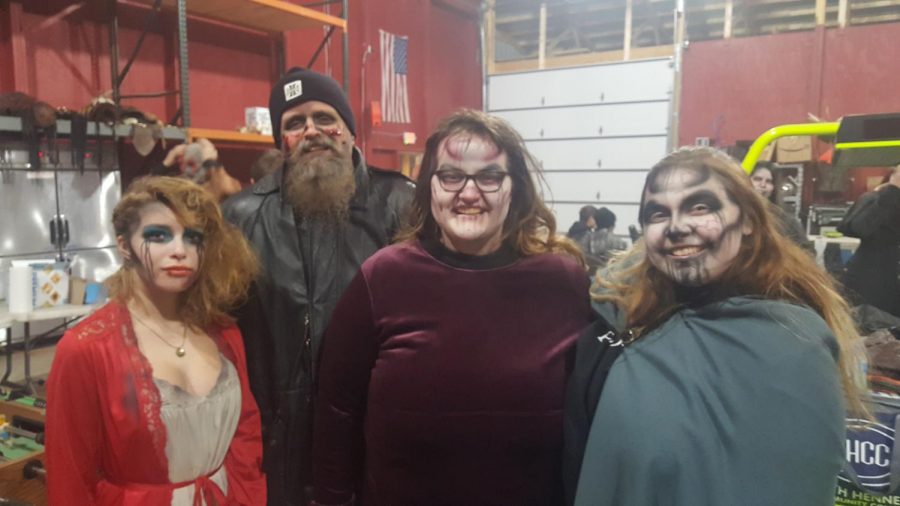 One true sign that Fall has arrived the opening of the annual ghoulish affair called the Dead End Hayride. This Wyoming, Minnesota attraction brings in thousands of customers including hundreds of Cambridge-isanti residents but many people have no idea three CIHS students and one CIHS teacher are part of the scare fest. .
Senior Amanda Hosch loves working at the Dead End Hayride and has bounced around to different scenes including the Hillbilly Hut, the claustrophobia-inducing catacombs, and the graveyard while CIHS Junior Gabby Holboy has worked in various places including western town, the butcher shop, and the sheet room. "My favorite role I've played is playing one of the (scary) nuns," Gabby said, explaining the Hayride can be really scary to visit and even work at. "I'm a scaredy cat. I often get scared at work."
CIHS Sophomore Sage Chapman has worked in the motel and the clown barn. She wants to stress that she isn't the clown that comes flying at people from above. Chapman, a professional actress with a movie credit to her name, has enjoyed working in the clown barn and the motel. "I love working at the dead End and I plan to come back next year."
Social Studies teacher Mr. Chad Filley also works at this Haunted Hayride. His job is to sort people out and send them through one of three tunnels. His main goals are to scare guests or make them laugh. Although there's been plenty of laughter, he did scare one girl so bad she actually passed out.
CIHS Junior Ashley Norman recently attended the hayride and was brought to tears by one of the frightening clowns. Despite her sobbing she explained, "It's a blast. I've gone the last two years." The clown house is definitely the worst for her and both years her friends have had to pull her through because she freezes up. Another thing to be aware of is that the actors may touch the guests as long as it's an appropriate touch. This often adds to the tension of an already nervous guest when a zombie starts messing with her hair.
This "haunt" can include longer lines on the weekends but there are options to buy fast passes and on weeknights the lines are much shorter. Once a guest gets to the front of the line she is loaded onto a hay wagon along with others and the journey begins. After a series of scares, pyrotechnics, and interactions with horrifying beings who jump on the wagon, they unload and the guests enter the walk-through phase of the farm. This includes all kinds of scary twists and turns. Finally, the last third of the journey begins in a scary motel room and after a series of different adventures the guests must navigate their way through a junkyard maze. This five-star, nationally acclaimed haunted hayride is definitely worth attending.
"It's really fun," Ashley Norman said. "Go with friends and have a good time."
The hayride will finish its seasonal run this week. It will be open Oct, 31, Nov. 1-3. Anyone interested in purchasing tickets or finding out more information can access the website: https://thedeadendhayride.com