Great locations to visit during your summer vacation
Introduction:
Summer vacation is just on the horizon here at Cambridge Isanti High School. You may wonder where you want to go while off summer vacation. If you are still trying to decide where to enjoy summer break, here are a few wonderful options to enjoy your summer vacation found here in America.
Glacier National Park:
Montana's Glacier National Park is well known for its geological features. These geological features include over 700 lakes and mountain ranges that span over a million acres. Even snow and ice can be seen on the ground at higher elevations.
July and August are considered the best times to visit this incredible landmark. During this time, the sun shines on the luxurious lakes of Montana, and temperatures reach an average in the low 80s. With all of the breathtaking landmarks and fair weather that can be experienced at Glacier National Park, it is no wonder why it is a top landmark to spend your summer vacation at.
Yellowstone National Park:
Yellowstone is a natural wonder due to its incredible canyons, breathtaking scenery, and mystical springs. Many significant landmarks can be found at Yellowstone, including the spring Old Faithful, which erupts every two hours. Another milestone that is well known is the obsidian cliff which is a cliff made out of obsidian that came to be due to a massive volcanic eruption. Yellowstone is also well known for its wildlife, including elk, wolves, and even bison. Yellowstone also has many great trails that can be hiked through, and many lodges and visitor centers throughout Yellowstone are open to anyone seeking a place to relax.
Yellowstone has an average temperature that spans from the high 70s and 80s.
With the proper temperature and impressive landmarks to visit, it's no wonder why Yellowstone is as famous as it is today and why it could be a great place to enjoy your summer vacation.
San Francisco:
While San Francisco may not be known as the most geographically inspiring location, it has some incredible beaches and many impressive manufactured mo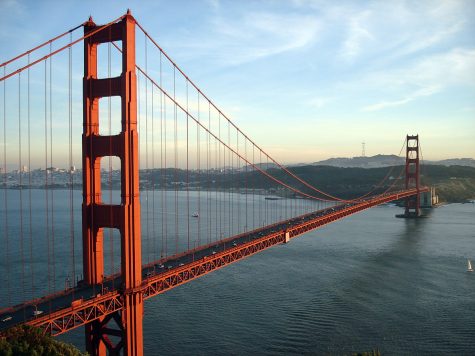 numents you can visit. These fantastic monuments include the Golden Gate Bridge, Muir Woods National Monument, and the garden-filled Golden Gate Park.
San Francisco's best beaches include Ocean Beach, Baker Beach, and Crissy Field Beach. The temperature in San Francisco, on average, is in the upper 50s to low 60s, which is a letdown, but you can always put on a jacket if the cold is ever too much to bear. San Francisco is a city in California that, at times, can be pretty cold. Still, it has some of the most significant and famous monuments known to America, so it may be worth your time to visit San Francisco during your summer vacation.
Bar Harbor:
Known for being a peaceful paradise with beautiful beaches, Bar Harbor is considered one of America's best harbors. It becomes a vibrant paradise in the summer, with temperatures reaching high in the 70s. Bar Harbor is known as the gateway to Acadia National Park. Within Bar Harbor lies an excellent hiking ground, great public parks, and magnificent beaches. If you are tired and need a break from the summer fun, you can visit Bar Harbor's main street, which includes many shops and restaurants. So if you want to see a nice spot offshore for summer break, I would not overlook Bar Harbor, a coast with breathtaking sceneries.
Outer Banks:
Since we are on the topic of coasts, it would be a crime to overlook the outer banks.
From the beautiful beaches, you see a lifetime gazing at the shining sea with temperatures reaching the high 70s. There is no trouble to be seen with the outer banks. 
During the day, the Outer Banks is filled with many options to fulfill your day and joys on the beach. These options include fishing, windsurfing, sailing, and the simple pleasure of flying a kite. Also, five-star hotels can be easily found while on the Outer Banks. This is great when you want a break from the beach life. You can't go wrong at the Outer Banks because it is a coast filled with exciting activities, beautiful sceneries, and perfect five-star hotels.
Conclusion:
You have read some great options for places to visit during what is sure to be your perfect summer vacation. These incredible locations you can visit range from Yellowstone's mountainous terrain to the Outer Banks' breathtaking beaches. Although I have only listed a few great places to visit, there are many more to remember, such as Hawaii, Seattle, and good old las vegas. But you don't need to visit a bustling big city or a five-star coast to have a good time during your summer break. All you need is the people you care about in your life and to spend your summer with them because spending time with family and friends is the best way to spend your summer vacation.