Freshman sees legendary band in Phoenix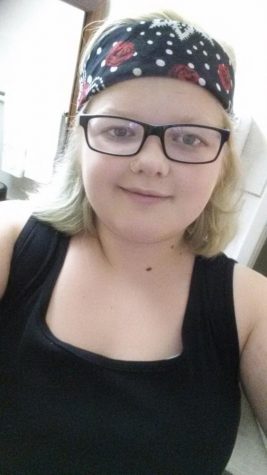 While walking the door of the Phoenix Cardinals Stadium, I knew I was going to have a good time. Music blasted from the large speakers placed on the brightly painted, red and beige pillars . But I couldn't identify the song or even the artist over the buzz of excited people buying their t-shirts or food. It was my dad's fortieth birthday and he decided to take my mom, brother, and I to this concert. Now usually, I hate going to any place this densely packed. This time was totally different. I felt almost at home and unified in the thought that we all were going to see Guns N' Roses live for the first time in decades. Even my brother, Joey, who was never a big fan of concerts, was excited.
Even though we got there 2-hours early, the first opening band started playing not even 45 minutes after we got to the stadium. The band was Tyler Brant and the Shakedown. I don't remember much from that act, due to the fact that I had to wait in line for an hour to even buy my shirt and find my seats. I caught maybe the last few songs before they left the stage. It was another long wait for Zakk Wylde to take the stage, but once he got up there, you would almost forget about the wait. He was a pretty good choice to rile up the crowd . He even played the guitar with his mouth and behind his head. I remember enjoying this part a bit. I had never heard his music before and I was kinda liking it. But before I knew it, they walked off the stage and the stage was being set for Guns N' Roses.
I remember this wait being extra-long. If I recall correctly, almost an hour until the screen began playing what sounded like a gunshot. There were two revolvers on the giant screen behind where they would play. I remember this part very vividly, because there was this deep hum after each gunshot. I closed my eyes and enjoyed the feeling in my chest as it almost moved across the audience. After the sound dissipated, each time I would get excited for it to come again. It acted almost as if it was a countdown, although there was no pattern to when it would go off. Like the loud sound was to say to those buying food or drinks, "You better hurry up, or you're going to miss the best part." After almost five or ten minutes of me just enjoying that sound, a final animation played as the Looney Tunes music played. The lights were dropped. One of the revolvers was being loaded, the butt of the gun facing the audience, and it fired. Then, Duff Mckagan could be seen playing the bassline for "It's So Easy." Everyone stood and cheered as Axl appeared on stage. Lights were flashing, and the music was blaring. I was seated right next to one of Slash's speakers, so I had a really good time there. When Slash was shown on the giant screen, the roar of the crowd was almost deafening. Clearly he was the favorite among the crowd.
The next song was "Mr. Brownstone" and Axl was still running around the stage. Even though he's 54 years old, he still has the energy as if he's 23. He also still has the voice that should have burned out decades ago. My parents would not stop singing this song, due to a reference of "getting on stage around 9." I really didn't care, because I liked the song. During that song, and the ones following, they gave me a show that I would never forget. As the beginning for "Chinese Democracy" came and went, I thought to myself, "This is the most fun I've ever had!" After the final notes of "Chinese Democracy" rang out through the giant speakers, Axl began to introduce the next song.
"DO YOU KNOW WHERE YOU ARE????" He nearly screamed. I knew what song would be played before the beginning chords were played. They began playing "Welcome To The Jungle" and I pretty much started to cry. I grew up on Guns N' Roses and other rock bands from that era. This song meant so much to me, it's really an inspiration. This song, "Welcome To The Jungle," is what got the entire band off the streets of L.A. To me, this song is more than just a song, or a bunch of chords and an awesome solo. It's basically saying, "If we can make it big, you can make it big." And that's what I want. Looking around, I saw thousands of people singing or screaming the lyrics, almost thirty years later. The guitar sounded like it was sent from Heaven, mixed with Duff's bass and Axl's voice. I will never forget how I felt during those few minutes. I felt as if everything in the world was alright. Like nothing else matters, and no one is out to get me. It was during that song when I found out that Duff can also harmonize pretty well too.
The next few songs went by in a blur, I was still dazed from "Welcome To The Jungle." I wasn't paying attention during "Double Talkin' Jive," "Better," and "Estranged." I just remember feeling the sound of the bass and guitar move right through me, and take me places I've never been before. But when "Live and Let Die" started playing, I really began paying attention to the music. For those who don't know, "Live and Let Die" is a song written by the band Wings. Paul McCartney and his wife Linda formed the band Wings. Since I am also quite the Beatles fan, I really enjoy this song. Both versions of the song, Paul's and Axl's, are great for their music style and for the listeners.
Next they played "Rocket Queen," the type of song that gets stuck in your head for days. In fact, just writing about it now I've gotten it stuck in my head. Anyway, the fast chorus, and the energy rushing through the entire audience was enough to get me going and enjoy this concert even more. I had fond memories connecting to this song, and the list just keeps expanding.
Before I knew it, the next song began playing. "You Could Be Mine," "New Rose" (which is a cover originally by The Damned), "This Is Love," "Civil War," and "Coma" passed by my ears in a blur. I pretty much fell in love with the sound of a bass guitar. Even if I wasn't too familiar with most of the songs, I still loved the fact that you could feel the emotion. Even if it was wild, Axl still somehow made it an emotional experience for me.
What changed the whole night for me, however, was when Slash played the "Godfather Theme." He had never played this song before in this tour from what my dad told me. He is a reliable source for information on concerts too, so I would trust his word. It was this song, that made me want to do this. To play with so much soul and emotion, and with such talent, is a huge dream for me. I have learned how to play it since then, and of course I could look up the video from that night. But nothing will ever come close to having the source just a few hundred feet in front of you. I wanted to do that. I still want to do that. Words cannot explain how I felt in those two and a half minutes. I can tell you, though, it was good. It was really good. I fell in love again with the sound of a Les Paul. And the sound of Slash, was just heavenly. If I could repeat those minutes over and over again, I would. If a person's Heaven was a memory, a memory that would be cherished forever, that would be mine.
Sadly, every song has to end. I didn't get too sad though, because the beginning riff for "Sweet Child O' Mine" started up. This is one of the first things I learned how to play on guitar, and I was doing the fret placement in the air. I glanced at my dad and he was grinning at me. Before the concert started, he had admitted that one of the selling points of even going to the concert was the fact that I had never seen them live. He told me that he wanted me to hear "Sweet Child O' Mine" the way it was supposed to be heard. It would be safe to say that I enjoyed it a lot. I'm pretty sure the entire stadium was singing (or screaming) along with Axl. I was raised on this song, and I am able to recognize it after the first three notes. It's what gets me through the day. And now, in this moment, it's making my blood rush, and my heart pound. I couldn't hear the song at the time, I felt it. The raw emotion being poured out grabbed at my soul and didn't let go. It's still tugging on my heart, and pulling me.