First Class of Bluejacket Hall of Fame Inductions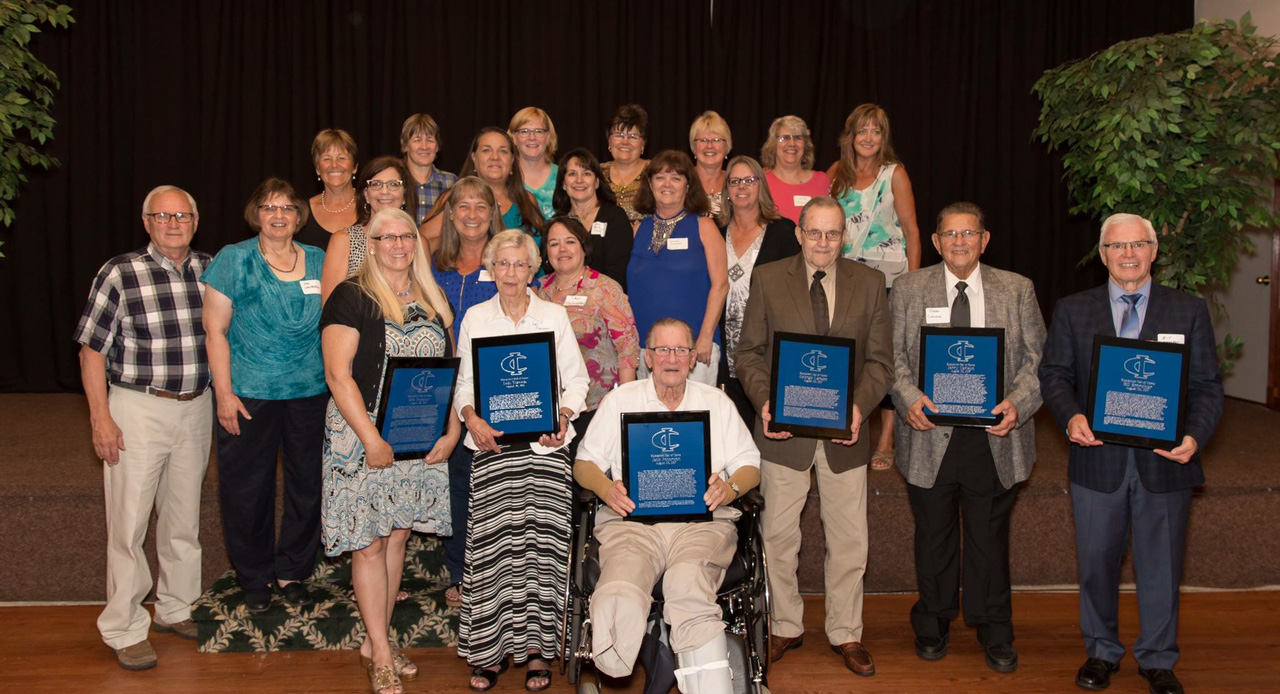 The first class of inductees into the Bluejacket Hall of Fame Ceremony was held on August 20th to honor the following individuals and team.
Jerry Carlson HOF Bio – 2017
Jerry was born in Hector, Minnesota in 1940.  In 1957, he graduated from Hector High School where he participated in football and baseball.  He captained the football and baseball teams earning all-conference honors as a Senior in both sports.  Following his graduation from High School, Jerry attended St. Olaf College and graduated in 1963 from the University of Minnesota with a degree in Physical Education and Social Studies.  Jerry landed in Slayton where he quickly put his coaches training into practice.  From 1963-1968 he was the Head baseball coach, coached Junior High basketball, was assistant football coach for 2 years, and Head football coach for this final 3 years in Slayton.  In 1968, Cambridge-Isanti schools was fortunate to land Jerry as a teacher and coach.  At Cambridge-Isanti High School, Jerry continued his coaching career as Head baseball coach from 1969-1977 where he amassed 73 of his combined 140 wins as a Head baseball coach; Assistant football coach from 1968-1993, and Head girls softball coach from 1985-1999 winning 175 games.  Jerry's accolades during his coaching career are numerous.  In 1967 he was recognized as the Region 2 Baseball Coach of the Year, Region 7AA Softball coach of the year in 1986, inducted into the 25 year Minnesota State High School Coaches Association Coaches Club, and selected as football coach for the outstate All Star Game in 1989 along with receiving the Butch Nash Outstanding Assistant Football Coach of the Year.  In 1993, the awards continued as Jerry was honored with the Minnesota Assistant Football Coach of the Year award.  Jerry moved from his Physical Education office to the Athletic Director's office and was named Athletic Director of the Year in 1997.  Finally, Jerry was inducted into the Minnesota Football Coaches Association Hall of Fame in 2013.
Outside the classroom and coaching realm, Jerry accumulated more honors including Cambridge-Isanti High School Teacher of the year (1981), Community Education Outstanding Achievement Award (1990), and Minnesota Chamber Foundation Excellence in Education Award (1991).  Along the way, Jerry had the never ending support from Diana (deceased), Kim (49), Heidi (44), and Nikki (39).  Jerry's ability to build and maintain relationships is the cornerstone to his success!
 George Larson HOF Bio – 2017
George was born in Bryant, South Dakota in 1932.  He graduated from Bryant High School in 1950.  He attended Northern State and the University of Minnesota graduating in 1956 and 1969 respectively.  George's coaching career began at Jeffers High school in 1956 as the head football and track coach, and as a basketball assistant until 1958.  In 1958 he was hired by Cambridge-Isanti school district where he spent the remainder of his career until 1993 (he returned to coach football in 1999-2000).  For over 20 years, George held the record for most wins in the history of Minnesota High School football amassing a record of 307-66-6 over 38 years.  His impressive accolades include membership in the following Hall of Fame's:  Minnesota Football Coaches, Minnesota Athletic Directors, and Minnesota High School League.  Moreover, he was recognized as the Minnesota High School football coach of the year in 1971 and 1986 (the only coach selected twice).  In 1988, George was a finalist for the National Coach of the Year.  The football teams that George led won 25 conference championships, 16 section titles, 3 State Championships (1986, 1987, 2000), Runner-ups in 1980 and 1999, state semi-finalists in 1977 and 1983, and quarterfinalists in 1979 and 1991.
Outside of his coaching career, George was the Isanti County Commissioner for 22 years, a member of the American Legion for 65 years, helped to establish the Isanti County Park System, initiated the Isanti County Heartland Express, and has been a member of the Cambridge Lutheran Church for 59 years.  George has been greatly supported by his wife Joyce and their children; Edward (61), William (60), Lori (55), and Richard (52).  Not only has George been a respected coach for decades, but he has been a tremendous member, and leader, for the Cambridge-Isanti community.
Deb Hegquist HOF Bio – 2017
Deb Hegquist grew up in Crystal, Minnesota and graduated from Cooper High School
in 1972. There were no girls' sports teams until Title IX came around in 1974, but she participated in GAA activities year round. As a senior, she was named the high school's top female athlete.  Debbie went on to Bemidji State University where she was a 4-year gymnastics and two-year track star.  Upon graduation, she was hired as a Physical Education teacher for Cambridge-Isanti Schools. She immediately began coaching gymnastics and added middle school track a year later.  She was instrumental in laying the foundation for the success of the Bluejacket Gymnastics team, which won 14 Regional championships under her leadership from 1977 -2001.
Deb received the BSU Outstanding Athlete award for the years 1970 – 2000 at the 30th Anniversary Celebration. Debbie was inducted into Minnesota State High School Gymnastics Coaches Hall of Fame in 2003.  The following year she was inducted into the BSU Athletic Hall of Fame for Gymnastics and her track team entered the BSU Hall of Fame in 2014.
Deb founded and coached Rum River Gold Gymnastics, a USAG Junior Olympic competitive program, in 1997. Deb stepped into an assistant coaching position from 2001 – 2004 to better serve both programs, and the Jackets won four more Sectional titles in those years. Under her guidance and eye for technical excellence, many gymnasts from Rum River Gold went on to join the high school team and even medaled at the State Meet, helping the Jackets to be a top-ten ranked team almost every year since. In 2002, the Bluejackets placed 2nd in the AA State Championship Meet, their highest to date.  She retired from the club scene in 2015, but has served as a volunteer coach for the Bluejackets the past two seasons, driving from their new home in Pequot Lakes to lend her technical expertise and vast knowledge of skill progressions. At this time, the Bluejacket Gymnastics Team holds the record for more state appearances than any other AA team at 27.
Deb's husband, Mark, provided emotional and coaching support, but also understood all the hours she had to be away from home and how much the world of gymnastics meant to her and not only allowed, but encouraged her to live and breathe her passion. And of course, thank you to her daughters Bree (34) and Brittany (31) for being a part of her dream.
 Jack Peterson HOF Bio – 2017
Jack was born in Baldwin, Wisconsin in 1926.  He graduated from Baldwin High School in 1944.  Jack participated in basketball during his high school years and continued his career on the hardcourt as he attended River Falls College graduating in 1952.  Upon graduating from college, Jack began his coaching career in his home state of Wisconsin.  In Arkansaw he coached both baseball and basketball for 2 years.  Jack accepted a coaching position on Boyceville the following year.  From 1955-1958, he expanded his coaching repertoire to include football and track, and continued coaching basketball.  In 1958, Jack crossed over the St. Croix river and landed in Cosmos, Minnesota where he continued to coach the same three sports until 1960.  Before settling in Cambridge in 1965, Jack spent four years at Waconia High School coaching basketball and track.  Once settled in Cambridge, basketball and baseball consumed the remainder of his coaching career until he retired in 1985.  During his tenure at Cambridge High School, his basketball teams reached unprecedented success.  Jack led his teams to District 16 championships from 1970-1975.  His Bluejacket squads were Sub-Region Champions 6 consecutive years from 1976-1981.  Moreover, in 1978 they won Region 7AA and finished as Consolation Champions at the Boys State High School tournament.  Jack has received several prestigious awards including Outstanding Recognition of Service in District 911 for his work with Community Education and Summer Recreation from 1965-1983.  In 2015, he was inducted in the Minnesota Basketball Coaches Hall of Fame and more recently into the Minnesota State High School Coaches Association Hall of fame in 2016.
When Jack retired from coaching in 1985, he continue to follow and support Bluejacket athletics with the same passion that he utilized during his coaching career.  Frances (deceased), and his two children Jeff (54) and Traci (52), provided love and support throughout the long coaching seasons.
 Bill Smrekar HOF Bio – 2017
Bill was born in Ely, Minnesota in 1945.  He graduated from Ely High School in 1963.  Throughout his High School athletic career Bill earned several awards including:  All Conference honors in baseball, All Conference Honorable Mention for hockey, and athletic letters in football, hockey, and baseball.  In addition, his baseball team won a conference championship.  Following a successful High School athletic career, Bill continued to play hockey at Bemidji State and graduated 1969.  Bill's coaching career began in 1971 as the boys junior varsity baseball coach in Cambridge.  After 2 years as the junior varsity baseball coach he began to build the Cambridge-Isanti hockey program working with midgets through high school aged kids from 1972-1979.  In 1981, boys hockey was established as a High School sport and Bill was the head coach from 1981-2002.  During his long tenure as boys hockey coach Bill achieved tremendous success on the frozen pond.  Bill was named section coach of the year when his team won the section in 1992 while taking 4th place in State Hockey Tournament.  He was inducted into the Minnesota State Hockey Coaches Hall of Fame, but takes the greatest pleasure from starting the Hockey Program for all of the youth in the community to find their passion, build relationships, and compete at a sport that he truly loves.
Following retirement, Bill worked with the girls youth hockey for 4 more years and has been actively enjoying his grandchildren's athletic careers.  Bill's family has always been the source of his inspiration.  Patty (deceased) and Bill's boys Tom (51), Ron (48), and Todd (46) were vital pieces to his success as a teacher and coach.  Bill's second wife, Barbara, has provided stability and support throughout his retirement years.
 Lois Tureen HOF Bio – 2017
Lois was born in Arlington, Minnesota in 1931.  She attended Arlington High School and graduated in 1949 with 35 classmates.  Lois felt very fortunate to be able to attend Gustavus Adolphus College where she participated in a performing swim group.  Upon graduating with a degree in Physical Education and Health in 1953, Lois set out to follower her dream of teaching and coaching.  In 1972, Lois organized the first official Girl's High School Sports in Cambridge-Isanti High School history.  Not long after, the team attended the first large track event called the "Trackorama."  In 1984, the track team won their first of 4 consecutive Conference Track and Field championships, including the Section 7AA title in 1985.  Lois coached individual State Champions in the shot put and high jump.
After a stellar teaching and coaching career, Lois has continued to make a significant impact in the Cambridge community.  Lois has volunteered in the schools, singing in the church choir and playing the handbells, teaching "Faithfully Fit Forever," and participating in several trips, travel tours, and book clubs.  In 2002, Lois was inducted into the Minnesota High School Track and Field Hall of Fame.  Lois credits much of her success to her late husband (Jerry), fellow coaches, colleagues, parents who "set goals for her," and her brother James.  Lois is, and was, a true pioneer for girl's athletics!
1978 Girls Softball Team HOF Bio – 2017
In 1978, the Girls Softball team brought home the first State Championship title to Cambridge-Isanti High School.  Led by head coach Al Boesche, and assistant coach Jo Hilmas, the team finished the season with an impressive 21-2 record with a 7-2 victory over Tartan High School in the title game.  The girls dominated throughout the year outscoring their opponents 209-93.  The Bluejackets were led by an ace pitching staff of Marcia Ledin (12-1) and Lori Walberg (9-0).  Even with the dominating pitching, the Bluejackets needed to produce at the plate.  Michelle Patterson led the team with a .481 batting average, while Laurie Pepin belted out a team leading  26 hits.  Other key offensive statistics include:  Marcia Ledin's 31 runs scored; Laurie Pepin and Beth Zins 8 extra base hits; and Michelle Patterson's 21 walks.  Needless to say, the ladies got it done in the circle and at the plate!  To win a State Championship is truly a team effort.  At this time, I would like to recognize the members of the 1978 Girls High School Softball State Champions.  As I announce your name please stand to be recognized for this tremendous accomplishment.  Once again, the 1978 Cambridge-Isanti Bluejacket Girls High School Softball State Champions:  Brenda Becker, Carrie Brown, Paige Carlstrom, Gracia Dahlgren, Debra Eels, Julie Engmark, Gail Gunderson, Elaine Huehn, Marcia Ledin, Kim Olson, Michelle Patterson, Laurie Pepin, Julie Pulcher, Debra Schoenwald, Becky Turpen, Lori Walburg, and Beth Zins.  Once again, It is an honor to present the 1978 Cambridge-Isanti Bluejacket Girls High School Softball State Champions as inaugural members of the Bluejacket Hall of Fame class of 2017!