Jennie Parsons rocks it this Summer with Queen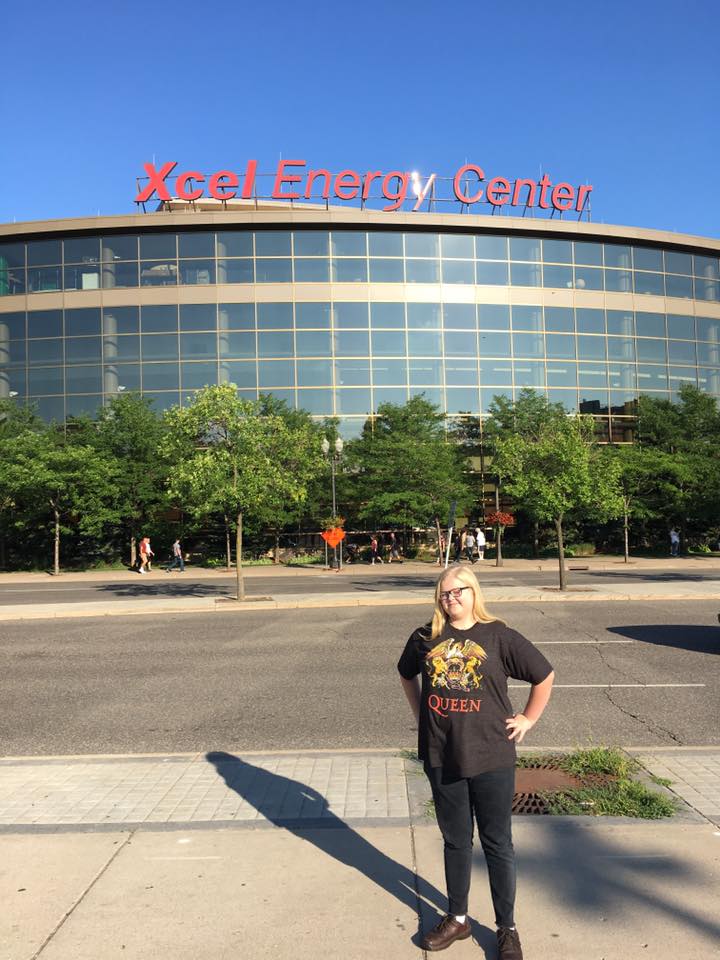 When I woke up on July 14th, I knew immediately that it was the day of the Queen
concert. To those that don't know me, I love Queen. I love their songs and their sound. When
my dad and I started going to the Xcel Energy Center, we were singing "Keep Yourself Alive"
and just having fun. The funny thing is, the muffler fell out before we could leave Isanti. So,
quick 30 minute fix (as in, my dad just took the whole thing out because it fell off way up front,
not in the back) and we were off! In a noisy car that sounded like a mosquito was next to my
ear. That didn't get me down. Nothing would.
The entire trip, I was thinking, "I get to see Brian! I get to see the Red Special! I get to
see Roger!" (the guitarist, the guitar, and the drummer respectively.) My dad and I were talking
about different things on the way to the cities, but I really don't remember much from our
conversation other than wishing John Deacon, the original bassist, would play. We finally did get
to the X, and we parked as close to the exit as possible. Previous concerts has taught us to do
that.
When we walked up to the doors, they were closed. They wouldn't open until 7, and it
was 6:30. Even with the car breaking down, we made it super early. The line wasn't even 20
people on each door. At this point, my legs were bouncing. It was becoming real. Eventually, we
bought our shirts and got to our seats. Which surprisingly, took 20 minutes! When we sat down
it was about 7:20. The waiting game begins. I started getting antsy soon enough, and began
drumming "We Will Rock You" on the empty seat in front of us.
8:00 rolled by, and people were filling their seats. Surprisingly, they were late! Queen
was supposed to get out and play at 8, but didn't show up until 8:30. I couldn't help but think of
Axl Rose on the Use Your Illusion tour with Guns N' Roses. He was always late! My worries
were short lived, because they did get onstage. I was having the time of my life! These two old
guys playing guitar and drums are what inspired me to even think about playing guitar!
The show started off with a verse from "We Will Rock You" after Frank, the monster from
the "News Of The World" album cover was shown on the screen and gave the boys their
introduction. There was no opening band, because there was no need for one. The people were
already excited out of their minds!
The next song was one of my favorites. "Hammer To Fall" is a great song and has
amazing lyrics. Not to mention that my favorite member of the band wrote it. I was singing the
words to it the whole time, and the guy in front of me complimented me. To those who don't
know me, I don't make things up to make myself sound better. I really don't care if you think I'm
a terrible singer. I find it awesome that this man, who heard a 15 year old girl belt out the lyrics
to a song that is 33 years old, thought "wow, I should make this girl's day!" and he did.
"Stone Cold Crazy" was the next song. No, Metallica didn't write this song, Queen did.
"SCC" features a crazy guitar sound, fast lyrics, and lots of fun. Seriously, listen to it! It's hard
not to get some fun out of this song! Anyway, I was singing along to this song too. My eyes
never left Brian, the guitarist. He is my inspiration in lots of things that I do. At this point, the
thought that I was really in the same room as him had sunk in.
The next song was a ground shaker. Literally, the concrete floor of the Xcel Energy
Center was shaking to the beat of "Another One Bites The Dust." My word, was this fun! In my
life, I had never seen an arena so excited for one song! The bass is catchy (you reading this
probably know the bass, and can agree) and so easy to stomp to the beat!
Throughout the set, I yelled and sang all the lyrics. I felt the words, and it was good.
Everything was good. "Fat Bottomed Girls" bled into a short "Killer Queen" verse. Adam sang
one of his songs, and went into "Don't Stop Me Now." The energy in this place, considering it
was mostly middle aged men, was high. Everyone was happy to see them here for the first time
in decades!
For "Bicycle Race," Adam came out with a hot pink trike. Man, did we all laugh.
Although, I was kind of disappointed that they cut it short and skipped the part with the bike bells
(as lots of people did bring bike bells,) I was still happy. Next up, was one of my favorite songs
off of the "Night At The Opera" album. It's called, "I'm In Love With My Car" and is sung by
Roger Taylor, the drummer. If you were to ask him who it was about, he'd just say "just
someone who is in love with their car," but I think the fans know who it's about. After the next
song, was another one of my favorites. It's called "I Want It All," and is one of the first Queen
songs I listened to. I love Brian's voice in the song (it's what got me to listen to them more, and
look where I am now.)
It was time to get serious. "Love Of My Life" had to be played, and now one spoke while
Brian was talking. He sat at the end of the runner in the middle with an acoustic 12 string guitar.
People brought out their phone lights and turned them on. Two spotlights shone down on Brian.
I remember clearly him saying "Look! The stars are out! Don't you just love them?" which got me
kind of teary eyed. He's an astrophysicist, and thus looks at stars all the time. I was so happy to
be a part of that.
Anyway, he started playing the intro to "Love Of My Life" and everyone was silent. Once
it was time for the verse to start, the entire stadium was singing to it. We got through the first
verse, and then Freddie was shown on the big screen, singing the second part. I'm not gonna
lie, I did cry a bit there. The song ended, and we did a stereoscopic selfie stick video (It's on
Youtube!) and went into "Somebody to Love" and "Crazy Little Thing Called Love."
After Roger's drum battle with a studio drummer (Roger won, of course) was "Under
Pressure." I couldn't help but think of David Bowie, who was singing on the official recording of
this song with Freddie. A nice bass line, great lyrics, and a wonderful guitar. It's the full package
in one song! Next was "I Want To Break Free" and all I could think of was the music video. Trust
me, it's hilarious.
"Who Wants To Live Forever" was following "I Want To Break Free" and I may have also
shed a few tears there too. The song itself was a tearjerker, not to mention that Freddie should
have been singing it. The guy sitting ahead of me told me that I had a good voice again, and
even my dad told me I sounded good. That's what I love about concerts. Well, one of the things
that I love. Everyone was usually super nice to everyone! We're just here to listen to good tunes
for a few hours and enjoy ourselves.
With wonderful speed and efficiency, Brian started his 9 minute solo. I was in heaven!
Everything sounded just marvelous! Without even knowing it, I had closed my eyes and just
listened. On the screen behind Brian, was the pictures that he helped take of Pluto. Yes, this
world famous guitarist helped NASA get pictures of Pluto (you know, the ones that made it look
like Pluto was holding a heart.) Everything was perfect, and I couldn't ask for anything better.
I was in a state of pure bliss when "Radio Ga Ga" was being played (but I still managed
to do the hand thing, for those Queenies reading.) Roger, the drummer, had written that song,
and it really is a heart to heart message about the impact of the radio had on his life.
The last song of the set had to come, of course. "Bohemian Rhapsody" was definitely a
huge hit within the crowd. Much of this song was to be expected. The operatic part was just
played from a tape, and they did the less complicated stuff live. The encore was to be expected
too. A full version of "We Will Rock You" that led into "We Are The Champions" and ended with
a recording of "God Save The Queen."
As I write this, it's been a few weeks since that night. I still think back to it daily, and how
much "Love Of My Life" meant to me now. I still think about that guy who sat in front of me who
told me that I could make big money singing. I still wonder what happened to him. I still think
about that solo that made me happy to be alive, and I still wonder about where I would be
without Queen.