Covid has made Cross-Country a different sport
Cross-country has always been one of the sports where age, times, and gender didn't matter. Everyone from middle schoolers to 12 graders came together as one to form one giant Cross-country family, however due to COVID-19 and major contamination policies, groups had become segregated in order for everyone to stay healthy. A new policy made by the Minnesota High School League stated that runners would have to be placed in pods of 10-20 people, which greatly impacted team bonding. The bond between athletes and coaches was affected as well as Coach Linda Droubie States, "COVID has also impacted the way we interact with athletes. We are not able to high five a kid or pat them on the back to give them positive praise and encouragement." For some runners receiving praise after a run is a crucial aspect, and being unable to receive that praise can be hard for athletes.
Mask policies have changed the sport as well. It has become mandatory to wear a mask when doing warm-ups and line drills, when riding the bus, and while walking the courses. With that being said, there are numerous different opinions on mask regulations and the ability to stop the spread of COVID with masks. It can be difficult for some people to leave their masks on while running or jogging before a run. Mrs. Droubie has found that mask can make it hard for athletes to read a coach's body language when interacting with them. Kids have to learn to gage how someone feels solely off voice tone and eye contact, which can be tricky for some people.
The biggest difference for this sport, lies in the competition aspect. In the past the average meet would be hosted to 6-8 different teams in contrast to this year's 3 team rule. That meant key meets throughout the season had to be scratched out, like the Swain meet up in Duluth. In previous years the Cross-country team would race up to 30 or more different teams from all over Minnesota at that meet, which was critical when leading up to sections and state. Due to the size regulations, big meets such as conferences and sections were broken up into different tiers. Three teams would compete against one another at 10am and then another wave of runners would compete at noon, creating unpleasant anxiety for the runners when waiting all day for the final results.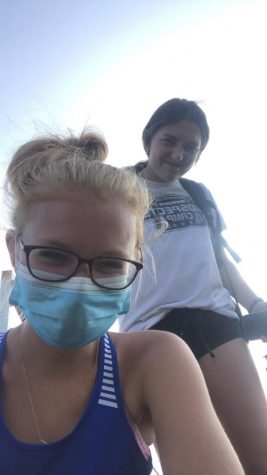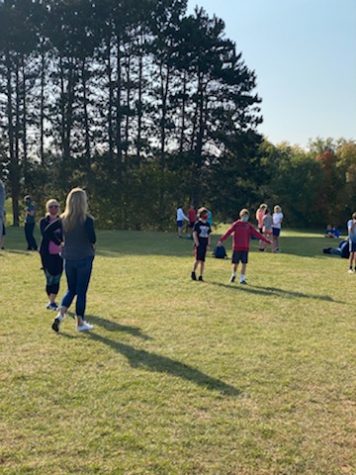 An interview was conducted with Coach Linda Droubie in order to see how sports has changed from a coaches perspective.
 How is cross-country different this year compared to previous years?
 We are only allowed to have 3 teams compete at a meet.  In the past, we might have 6-8 teams.  Our start line for cross country has significantly changed as well.  We are only allowed to have so many athletes at the start line at once, so we have had to create different tiers. We now have, possibly, a tier 1, tier 2 and tier 3 for a JV race.
What is your opinion on COVID and mask regulations?
I want to continue in person in school as much as possible.  I want students to have the option of participating in sports for as long as possible throughout this pandemic, therefore, I support and encourage mask regulations.
Do you believe sports should continue throughout this pandemic? 
I don't know that they should.  I believe the more we congregate, in large groups, the more likely the spread is.  I believe sports are very important, but I also don't believe that they are more important than the health and well being of human life. I want things back to normal as quickly as possible and am willing to sacrifice for a short period of time to make that happen.
How has COVID affected races, conferences, sections, and state competitions?
We will not have a state meet.  Our section meet will be run different and will not be as competitive.  We were able to have a conference meet for varsity, but we only competed, during the race against 2 other teams in our conference.  Our middle school and JV athletes were allowed to race, but it was virtual.  This is something that has never happened in the sport of cross country.  Our JV athletes had to run 12. 5 laps around a track rather than a traditional cross country course.