Meet some Auntie Mame Cast members
Everyone has been raving about how excellent the CIHS production Auntie Mame was.  Here are some of the excellent students who made it happen.  Fortunately, if you missed the show, you have a second opportunity to see it.
Coming THIS weekend! YOU have the opportunity to watch "Auntie Mame" with Video on Demand! Here's a glimpse of our Theatre students in action….
…get your tickets to SEE the show THIS WEEKEND! May 1st and 2nd; Friday midnight to Sunday midnight! 
www.showtix4u.com
Meet Cast Member, Aidan Lester ~ Class of 2021! Aidan is an amazing on stage performer!! She is dedicated, versatile and works hard to develop her character! You will certainly enjoy seeing her in the lead role of "Mame" in the upcoming production!
In her own words…I've done almost every show in high school and my favorite was "Joseph"! My favorite character to play was Potiphar's Wife and Auntie Mame, who I play in "Auntie Mame". I am CIHS Thespian president and a MN State Thespian Officer. I plan to go to U of M Morris and major in Performing Arts.
Rachel Watson is simply amazing as "Norah". Not only does she portray this "housekeeper" role, she also handles at least 50 props and scene pieces! Maybe even more than that! She does it all with organization, ease and remains in character the entire time! Way to go, Rachel!
In Rachel's words: In Auntie Mame, I play Norah, a housekeeper. I have been in ten shows at the high school and am a member of the Thespian society. My favorite show was this year's one act, 937! I think my favorite role was in that show too. I played an overprotective mom named Selma. I am grateful for the theatre program in our district and I'm so excited to perform Auntie Mame!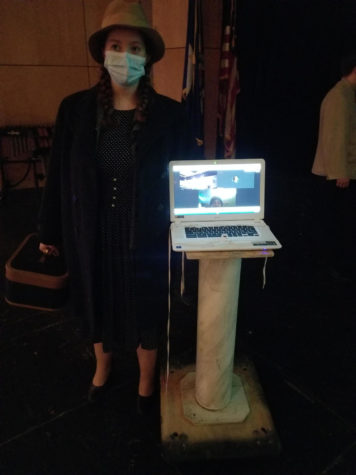 Elijah Porter is on the 2020 cast list as "Brian O'Bannion", the literary artist who works with Mame to write her book. On the 2021 cast list, he is still playing "Brian O'Bannion" and he has also taken on the role of "Ito", Mame's House manager. These are two completely different roles and he has worked very hard at developing a distinct character for each of them! You will enjoy – and hopefully even laugh at – his characters!
In Elijah's words:
I have done theatre at the high school since my freshman year. I've done ten shows at CIHS. "The Lion, The witch and the Wardrobe" was my favorite show with Peter being my favorite role. I have the role of Ito and O'Bannion in "Auntie Mame". I am a Thespian. My post graduation plans are to go to the American Academy of Dramatic Arts and get an acting degree then work in the industry hopefully on-screen.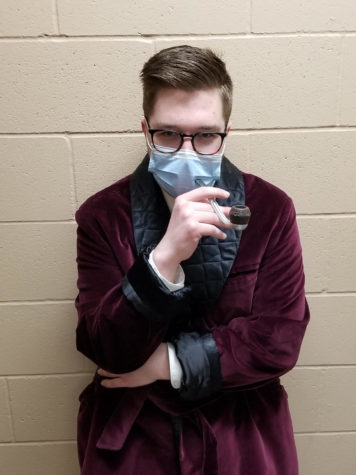 Maisie Gartner: (Plays "Pegeen" and "Theatre Manager", you may see her in other scenes as well!)
In Maisie's words:
Auntie Mame is my 10th show with CIHS Theatre and my 3rd show with Viva. My favorite was our one act this year, 937. My role in Auntie Mame is Pegeen Ryan. She is an interior decorator that is included in the plot twist at the end of the show. She has been my favorite character I have played. This year, I am a Thespian officer along with some of my close friends. After high school, I am going to Hamline University for Education and German Studies. I hope to also do theatre there.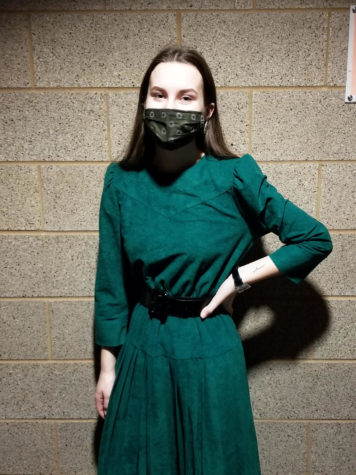 Molly Siedlecki: (Plays "The Bishop", "Mrs. Loomis", at Macy's and "Agnes Gooch".
In Molly's words:
I started my high school theater career in The Miracle Worker. After that, I helped out with pretty much every show I could, although I would have to say that The Lion The Witch and The Wardrobe was my favorite to be in. In Auntie Mame, I am playing the role of Agnes Gooch, a very bland and unexciting person, but she sure is a hoot!
I was inducted as a thespian my sophomore year of high school, and have enjoyed participating in all of the events we put on. After graduating this spring, I will be going to UW Stout for film and video production.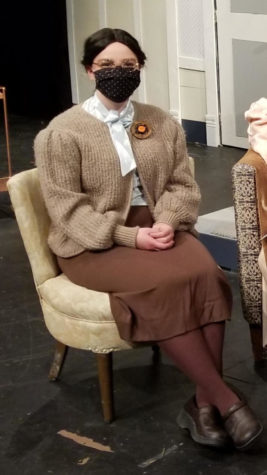 Kaci Coffman (plays "Sally Cato MacDougal" and "Gloria Upson")
In Kaci's words:
I have been in 7 shows in the theater program. My favorite character I have been able to play would be "Sally Cato" from Auntie Mame. I also get the chance to be "Gloria Upson" in Auntie Mame, as well. I am a Thespian. My plans post graduation are to become a child's psychologist.