Heart of a Lion: The Chris Jericho Story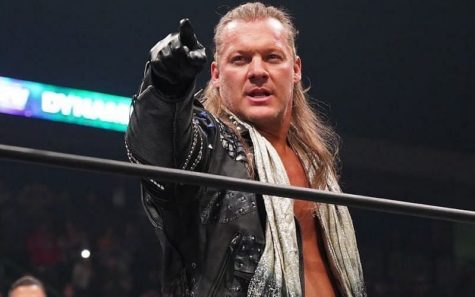 According to Chris Jericho in "A Lion's Tale" he was originally born in Manhasset, New York, but was raised in Canada. I believe that Chris Jericho is one of the greatest wrestlers of all time. Chris rose to fame at an early age and has remained one of the most prominent wrestlers in the country, with a career that has spanned over 30 years. Aside from Chris Jericho's many accomplishments throughout his career, his achievements in the mainstream media and the story of his personal life help define his greatness as a wrestler. 
Chris Jericho was born Christopher Kieth Irvine in Manhasset, New York on November 9th, 1970 to Ted and Loretta Irvine. Growing up as an only child in Winnipeg, Manitoba, Canada, Chris was a creative kid who loved reading,  writing and had a strong passion for music. Chris played in bands during his high school years and was heavily influenced by his two favorite bands, Metallica and AC/DC. Chris also loved professional wrestling. He has stated in multiple interviews that he was first exposed to wrestling while watching the American Wrestling Association (AWA) on television with his grandmother. Wrestlers such as Owen Hart, Ricky Steamboat, and Jesse Ventura were early influences on his career. 
Chris began his training at the Hart Brothers Pro Wrestling Camp in Calgary, Alberta, Canada in 1990. This is where he met his future tag-team partner, Lance Timothy Evers, who is professionally known as Lance Storm. Chris and Lance struggled to gain the respect of veteran wrestlers at the start of their careers, as they were younger, more athletic, and were able to do high-flying moves in the ring. Some of the other wrestlers felt that type of showmanship made them look inferior by comparison. 
During this period, Chris was trying to come up with a name for himself. Originally wanting to call himself Jack Action, he ran the name by Lance to see what he thought. Lance, having no filter, scoffed at Chris and said that he thought it was a stupid name. Struggling to come up with a name he turned to a cassette tape he had by the band Helloween titled Walls of Jericho, where he would come up with the name he's used for the past 30 years, Chris Jericho. 
Chris would have his debut match on October 2nd, 1990 against Lance Storm. Chris and Lance wrestled each other in the opening match to a twelve-minute draw. The style of the match was influenced by their favorite wrestler, Owen Hart.  For the next six years, Chris traveled all over the world perfecting his craft as a single and tag-team wrestler with Lance Storm. He would wrestle as "Lionheart" Chris Jericho. Throughout that six year period, he wrestled in Germany, Japan and Mexico. He wrestled six nights a week in Germany in front of the same crowd, which he said taught him how to work different styles and give people different types of matches. Japan is where Chris would meet one of his closest friends in the wrestling business, Chris Benoit, who was known in Japan as The Pegasus Kid. He went to work for Paul Heyman in Extreme Championship Wrestling (ECW) where he would only have a handful of matches before going to Ted Turner's World Championship Wrestling (WCW). This would be Chris Jericho's big break. 
After his stint in ECW, Chris met WCW President Eric Bischoff at The World Peace Festival in Mexico. The deal came about pretty easily Eric Bischoff said,
"Benoit's been recommending you like crazy and that's enough for me. Do you want to come work for me in WCW?" 
Bischoff then gave Chris his secretary's number to set up a meeting. Chris and Eric met in Atlanta. Getting straight to the point, Eric compared Chris to World Wrestling Entertainment's (WWE) Shawn Michaels and wanted to build upon the Cruiserweight division, which Chris competed in. Eric Bischoff signed Chris Jericho to a $135,00 WCW contract, which was way more than Chris was expecting. Chris made his national television debut for WCW on their Monday night show Nitro against Alex Wright in an eight-minute match that ended in a no contest. At first, Chris was a baby face (young wrestler) with no defined character or personality. The best he could do was scream at the fans "Come on Yeah!" After toiling away in the cruiserweight division for a while and on a losing streak, Chris became upset with the company. He received news from road agent Terry Taylor that they were going to turn Chris heel (a bad guy) which sparked a fire in Chris. 
This is where Chris would develop a character and his personality began to shine. He got microphone time before his matches, which he rarely got before. This is where he came up with catchphrases "Never eeeeeeeeeeever again!" being the most famous. One of his best rivalries as a heel in WCW was against Dean Malenko where, once again, his creativity began to shine. He did a promo segment saying that he was the man of a thousand and four holds. A dig at Dean Malenko's nickname "The Man of a Thousand Holds." He also came up with nicknames for Milenko such as Stinko Malenko. Another feud he had was against Bill Goldberg where Chris would call out Bill to have a match with him. Bill never accepted the match because he thought it was comedy. This feud is where Chris would come up with another one of his famous creations. Ralphus who Chris Jericho wanted to play a fat ridiculous-looking security guard as a knock on Goldberg's ring entrance. Goldberg would have security guards walk him down to the ring. Chris was once again unhappy due to Bill not cooperating and felt like his career was not advancing. He wanted out of WCW. 
In mid-1999, he wanted to go to the WWE, where he always dreamed of working. Chris had a meeting with WWE's owner, Vince McMahon, at his house in Stamford, Connecticut while he was still under contract with WCW. After Chris's WCW contract ran up he finally made it to what he felt was the land of opportunity. A countdown clock would start appearing randomly on RAW (the WWE's Monday night show) for weeks. Finally, the countdown clock would end on August 9, 1999 in the middle of The Rock's promo, when Chris made his WWE debut. The WWE is where he would spend the next 20 years of his career. He had multiple runs in the company; with ups and downs with breaks in between. His first run took place from 1999 to 2005. He returned in 2007 and then would be on and off with the company ever since doing projects outside of wrestling that interested him. His last run with the WWE to date was from 2015 to 2017. (Something Else to Wrestle with Bruce Prichard)
He then went to work for New Japan Pro Wrestling (NJPW) in 2018 for their Super Show at the Tokyo Dome, which was called Wrestle Kingdom 12.  He wrestled against New Japan's top star Kenny Omega. Chris has continued to work there off and on for the past couple of years. He is currently signed with All Elite Wrestling (AEW), where he became their inaugural champion..
I believe Chris Jericho should be considered one of the greatest wrestlers of all time because of his reinvention skills and his career statistics. In the WCW, he was a four-time cruiserweight champion, a two-time United States champion, and a one-time European champion. He's held the WWE Intercontinental Championship nine times, was the first WWE Undisputed champion, and won five World Heavyweight Championships. He also is a one-time AEW World Champion and New Japan Intercontinental Champion. (NJPW The Recount) Along with his laundry list of accolades, Chris also has many incarnations of his character. From the Lionheart in his early career in WCW, to Y2J in the WWE and his soft-spoken, serial killer, Suit & Tie wearing Jericho in 2008, to the list of Jericho in 2016. Along with his pain maker persona in New Japan in 2018, he added on to in AEW. 
Not only is Chris successful inside the wrestling realm, but he's also had tremendous success outside of wrestling. He has a rock band named Fozzy; they have made multiple records such as Chasing the Grail, Do You Wanna Start a War, and Judas. Judas' title song on that record is their most listened to song to date. Chris also has four books published. Such as A Lion's Tail, I'm the Best in the World at What I Have No Idea, Undisputed, and No Is a Four-Letter Word. He has another book coming out detailing his 30-year career. Chris has a podcast that talks about anything from wrestling to true crime to rock and roll called Talk is Jericho, which has over 700 episodes.
Chris has had a tremendous career spanning three decades over a multitude of companies. He has a laundry list of championships he's held and success outside the ring with his books and successful podcast. I think everyone that wants to get into wrestling should aspire to be like Chris Jericho.