Swinging Into Action: Spider-Man Brings Big Business To Small Town Theater
The Cambridge GTI Theater had a record breaking week with the release of Marvel's latest feature. Here's why- 
Marvel Studios has taken the entertainment industry by storm, captivating millions and creating a whole cast of heroes that fans can relate with and enjoy. For a decade or more these movies, with titles ranging from Ant-Man to Black Panther, have brought the masses out to their local movie theater for a night of fantastical fun.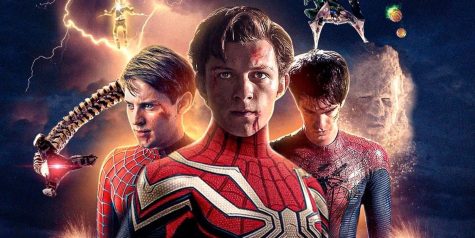 "I'm a huge Marvel fan," said JoAnn Sprino, owner of GTI Theaters. And it's very understandable to see why. According to boxofficemojo.com, four out of ten of the top grossing films of all time are Marvel Studios projects, with even second place going to Avengers Endgame, in 2019. And somewhat surprisingly, in the eighth place spot, we see Spider-Man: No Way Home, in 2021. 
There has been a lot of worry about our movie theaters lately. In just a two year time, even small theaters like GTI went from giants of entertainment to almost forgotten in the blur of a changed world. 
It's no mystery that COVID-19 has changed the course of America's hospitality industry. When there is no such thing as normal, it becomes a stark challenge to try and run a complex business. In the case of theaters, they face the challenges of this pandemic alongside the rise of streaming services like HBOMax and Disney+; shortening the window movies are exclusively shown inside theaters, creating joint releases, and sometimes bypassing the theater altogether.
Though even through the adversity that this changing climate presented, Marvel went ahead and set the release date of  this ambitious new movie for December 17th, 2021, exclusively a theatrical release. Theaters across the globe received Spider-Man No Way Home. So why is this so big for our local GTI theater? 
Well, it was the cold morning of that release day that the last of the one hundred and twelve new electric reclining seats were installed right here in Cambridge. It was quite literally down to the wire when the last finishing touches were made to a several month-long renovation project. 
There wasn't even carpet on the floors! 
Still, the seven o'clock doors opened to let the fans in. And it did not disappoint. Just with online sales alone it was enough to completely sell out the two luxury reclining auditorms, and another auditorium with one-hundred seventy-five seats was nearly filled. I myself happened to be working behind the concessions counter that night, and the energy behind it all could only be described as amazing. 
 Popcorn was popping, and amidst a full lobby, all we could see were the gleaming smiles of happy fans. 
The combination of luxurious renovations along with the excitement of Marvel returning exclusively to the big screen made for a good night at this local community theater. When I asked JoAnn how she felt about this massive success, she simply stated, "I love spidey." 
It's clear to see why.