Vespertine Book Review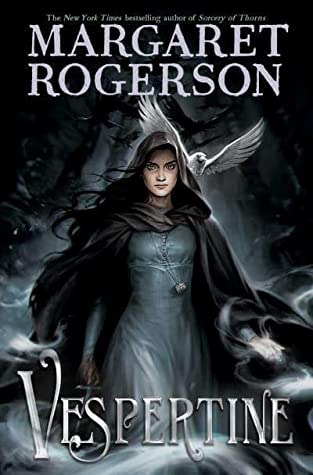 Vespertine by Margaret Rogerson is a fantasy and paranormal fiction book. This book follows Artemisia, who is training to be a gray sister. Gray sisters are nuns who cleanse the bodies of the deceased, so that they don't become spirits and cause trouble with their ravenous hunger. Artemisia will have to call forth a revenant to defend her convent, and when she does do it she finds herself stuck with the revenant and mysteries of the past. She and the revenant will work out some sinister mysteries of saints, dark magic and Loraille, while also dealing with their own trauma and past. 
  Some things that I loved about this book are the humor, the characters, and the world building. The humor in this book is actually funny and doesn't feel unnecessary. I've read books in the past where the humor felt out of place and was meant to be funny but wasn't, and those can just really bring down a book. I'm glad that wasn't the case here. The characters are the main appeal for this book, and especially the revenant. The characters are also relatable, which helped make the book easier to read. One thing that I find even better is that the Artemisia doesn't have any love interest, and this gave Margaret Rogerson more time to flesh out characters, develop friendships, and expand the world. It's nice finding a fantasy book that doesn't have the main character falling in love, because these can often feel just thrown in or not well developed. The world building in this is amazing and left me excited for the sequel. I like how Margaret Rogerson didn't use the revenant to just vomit information at the reader, and anytime it did need to tell information it didn't feel unnecessary, boring, or that it slowed the pace down.  
  Now on to things that weren't great about the book or some people won't like about it. Firstly, this book is huge on religion, so if you don't like that or don't want to read anything like that this book probably isn't for you. A minor critique that I have is that there are in a couple places a few changes that happen that made it past editing, like for example Leander going from 20 to like 19. I know it's minor but it was noticeable, probably because I read this in a couple of days and I've reread this book a couple of times. Another small issue is that Artemisia is described as being absolutely horrendous to look at, but on the cover she definitely isn't. I'm well aware that it's minor, but they got the scars correct. This isn't a romance book, so don't go expecting one. Artemisia can at times feel really stupid. The sequel isn't out yet, and it has only been confirmed that there will be one, so if you prefer less waiting I'd wait before starting this. 
  Overall I gave this 4 stars, and I'm excited to see what happens next.