Iron Widow reviewed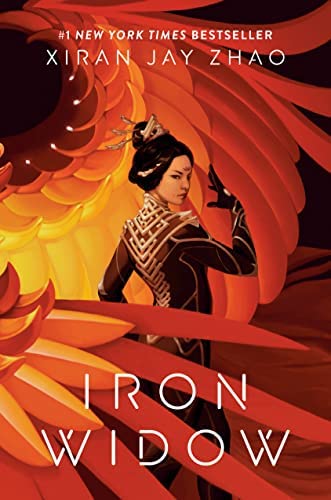 Iron Widow by Xiran Jay Zhao is a science fiction novel that is amazing, and I recommend it. The novel is about Wu Zetian becoming a concubine pilot to get revenge on the pilot that killed her sister. After her revenge, she's forced to pair up with the most dangerous and controversial pilot named Li Shimin. However, she has had a taste of what her power could be and she's not about to let it go now. She is on a mission to uncover the mysteries of the pilot systems and why they keep sacrificing girls for the system. The pilots in this book pilot huge transforming mechas called Chrysalises. Humanity heavily relies on these to stop the Hunduns. This novel is loosely based on the story of China's first and only Empress Wu Zetian, and I do mean very loosely. China has only had one official Empress during the Tang dynasty.
I loved the world-building, the story's message, and the characters. The world-building history behind the Chrysalises and Hunduns, the pilots and its system, and the overall history we're told in this book is great. The message is feminism, female empowerment, and treating people equally. There are themes of power and control. The characters are a major positive in this book. Most of them feel well-developed or will be more developed in the sequel. The romance, I loved it saying screw the love triangle; how about polyamory. The story always kept me excited to read and it had emotional moments as well. It's also a short read at roughly 400 pages. This is a very good book, but it's not perfect.
There are some not-so-great things, things I didn't like, or stuff others might not like about this book. It's very on the nose about the messaging and I think a pinch of subtlety would have improved the story a bit more. The polyamory was built up very well just for it to not get much out of it. I can't go into much detail due to spoilers. They all had good chemistry, but shortly after becoming official, things happened that cut it short. Certain background characters don't talk how you'd expect them in professional situations. People may have an issue with Wu Zetian, especially those who don't like the violent side of the main characters. I didn't have a problem with a lot of this, but some may see this as an issue.
I gave this book four stars because of the wanting more between the throuple once they did become official and just how in your face the messaging is. There is a confirmed sequel called Heavenly Tyrant coming in the spring of 2023. The movie rights to the book have been picked up by Erik Feig's Picturestart and they are planning a film franchise.