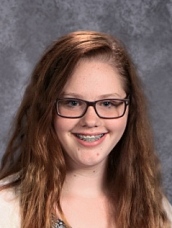 I am Marissa Gaslin, a sophomore here at CIHS. I write mostly opinion articles or suggestion pieces in the 'Arts and Entertainment' section of the newspaper.
I live with my mom and stepdad in Isanti, and I have three half-sisters, two of which are younger. I have one dog, Chloe, who is my best friend.
In my spare time, you can find me listening to music, drawing, reading, or writing. My favorite thing to do is listen to music and sing along.
My future plan is to hopefully become a clinical pediatric psychologist or to get into social working. I love working with and helping kids, and I think that even though it may be difficult, it could be fun.
Marissa Gaslin, Staff Writer
May 28, 2020

The Class of 2020

(Story)

Nov 12, 2019

Wrestling isn't just for boys

(Story)

Oct 10, 2019

CIHS senior looks similar to historical figure

(Story)

Dec 19, 2018

A service dog in School?

(Story)

Jan 22, 2018
Jan 08, 2018

Who Are You Know?

(Story)

Oct 28, 2017

Why teenagers should listen to older music

(Story)

Sep 25, 2017

The Walking Dead: Sink or Swim?

(Story)